---
"Fulfilling Our Own Desire" may be the best way to describe how we came up with Dive Inspire.
From recreational scuba divers who are passionate about scuba diving plus the desire to incorporate the amazing underwater world into daily life, we founded Dive Inspire in May 2014.
When talking about underwater world, many people may think of "whale shark", gentle giant of the sea, or "manta ray", gigantic bird of the ocean, or smaller fish like cutie yellow boxfish.
For us, we are a big fan of an animal which has more than 3,000 known species, from as tiny as the size of pointer tip or larger than the palm size. With variety of shape and vivid color patterns, many scuba divers undeniably fall in love with this fascinating creature...Right, we are talking about nudibranch, the inspiration of Dive Inspire.
Our product was initially designed around the graceful nudibranch and later on extended to other deep sea species. The product range has been created to serve different functions from gift, collectibles, decorative items, accessories to clothing.
Last but not least, we hope Dive Inspire will inspire you to discover another world and can treat sea-sick during working days for scuba diver friends with no need to carry scuba tank, breathe through a regulator or deal with nitrogen narcosis.
Let's explore a whole new world and discover the wonderful creatures together!
Thank you for visiting our website & have a happy shopping!
---
Shows & Events
First time for Dive Inspire to be a part of the Dutch fun fair for divers, freedivers and snorkelers! For every item purchased at the show, 1 EUR will be...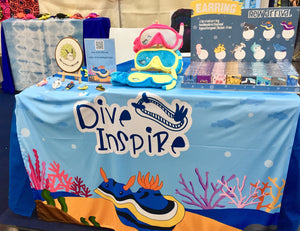 Hallo von Deutschland!! Our first time attending BOOT Düsseldorf.  Full products range are available for scuba divers and underwater lovers. Come over and see how cute sea creatures are! Booth#...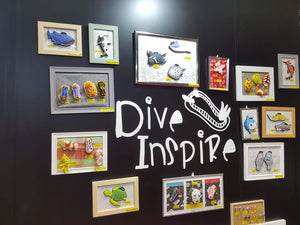 It's time to get x'mas gifts for yourself and your loved ones! Come visit our booth R248 at DRT Hong Kong! Show dates: 15-17 December 2018Location: Hong Kong Convention and...